Wedding dress codes can be hard to figure out. Not that I would know – I think the one (and only) wedding I've been to was when I was 10 and I doubt I had any say in what I was wearing. I also haven't been invited to a wedding for this year or the next, so if you're reading this and you know me, GET MARRIED.
Below I've decoded every dress code commonly used on invites and picked out some wearables to go along with them, from White Tie to Casual.
White Tie
White Tie is the most formal of all wedding dress codes. Think a royal wedding or, like, the Oscars. I will likely never get one of these invites but congrats if you do.
White Tie Dresses:
RASARIO Triple Bow Gown in Yellow

GALVAN Silk Pandora Dress in Pink

PatBo Pearl & Velvet Gown

Dundas Open Back Sequin Gown in Metallics
Black Tie
This usually means formal gowns for women. Despite your mind running to "ball gown", know that Black Tie usually allows formal dresses at any length.
Black Tie Dresses:
Oscar de la Renta Strapless Ruched Silk Mini Dress

Michelle Mason One Shoulder Ruffle Hem Dress

Stella McCartney Plunging Dress in Black
Formal/Black Tie Optional
These two terms are often interchanged, and usually, mean a floor length dress or pantsuit for women.
Shop Formal/Black Tie Optional:
Zuhair Murad Marilyn Lace Dress in Pink

Caroline Constas Amelia Gown in Orange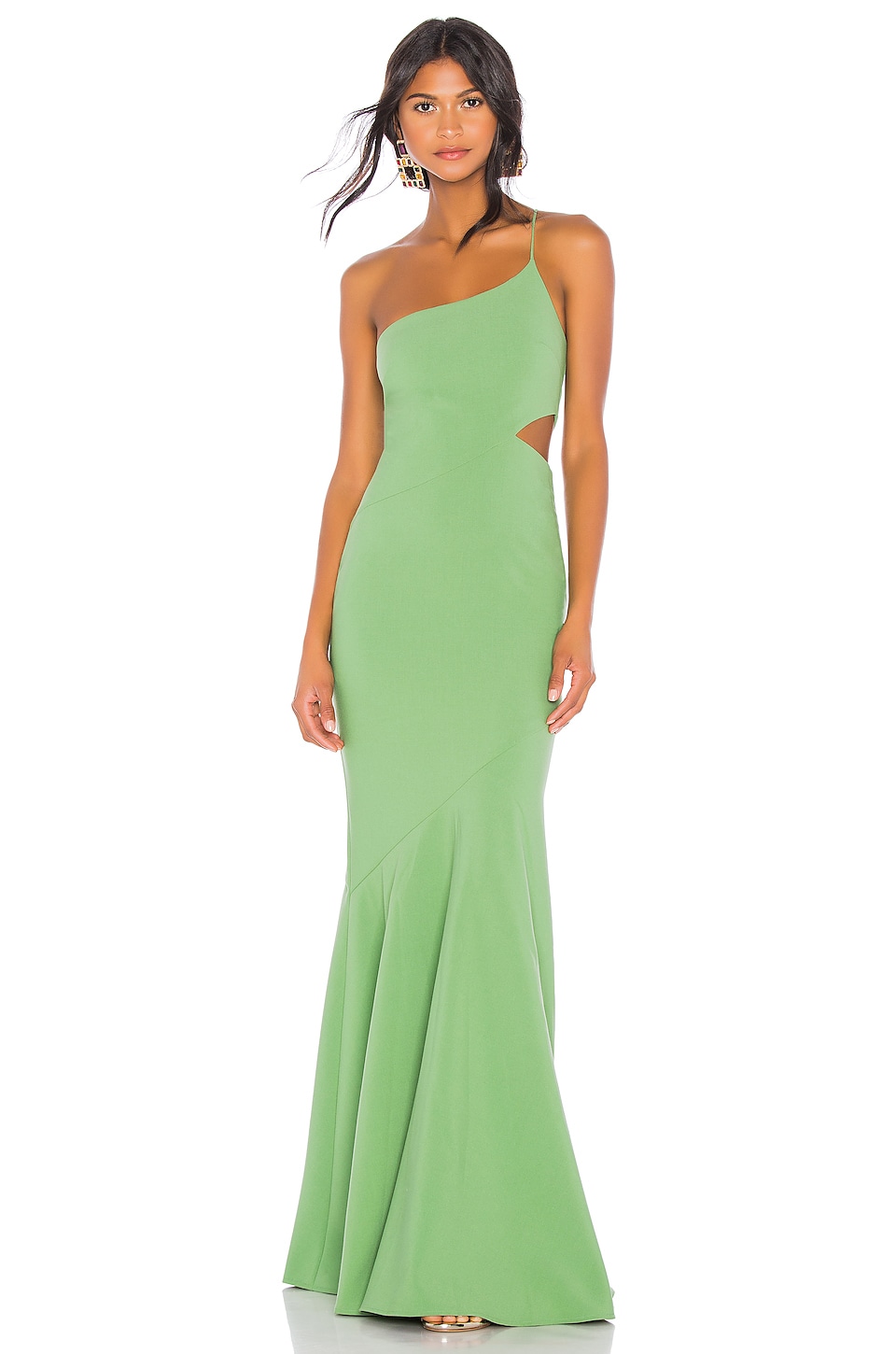 LIKELY x REVOLVE Fina Gown
Cocktail Attire/Semi-Formal/Dressy Casual
All three of these mean somewhere in-between casual and formal. Like the first phrase states, ladies often wear a cocktail dress. Fancy jumpsuits are also allowed.
Shop Cocktail Attire/Semi-Formal/Dressy Casual:
Bronx and Banco Eva Midi Dress
NICHOLAS Drawstring Dress

Isabel Marant Silver Kary Dress
Beach Formal
Although beach weddings usually scream casual, Beach Formal is a more formal affair. Opt for a tea-length or knee-length summer dress.
Shop Beach Formal:

Norma Kamali Goddess Dress in Nude

Chloe Brown and Multicolor Scarf Detail Dress

Ulla Johnson Gisella Dress

ROCOCO SAND Melody Maxi Dress

Cult Gaia Sabine Dress in Green
Casual/Daytime
This usually means you can wear whatever you want, but be reasonable. A summer dress or skirt is your best bet.
Shop Casual/Daytime:
Missoni Multicolor Knit Stripes Dress

Endless Summer Suki Slip Dress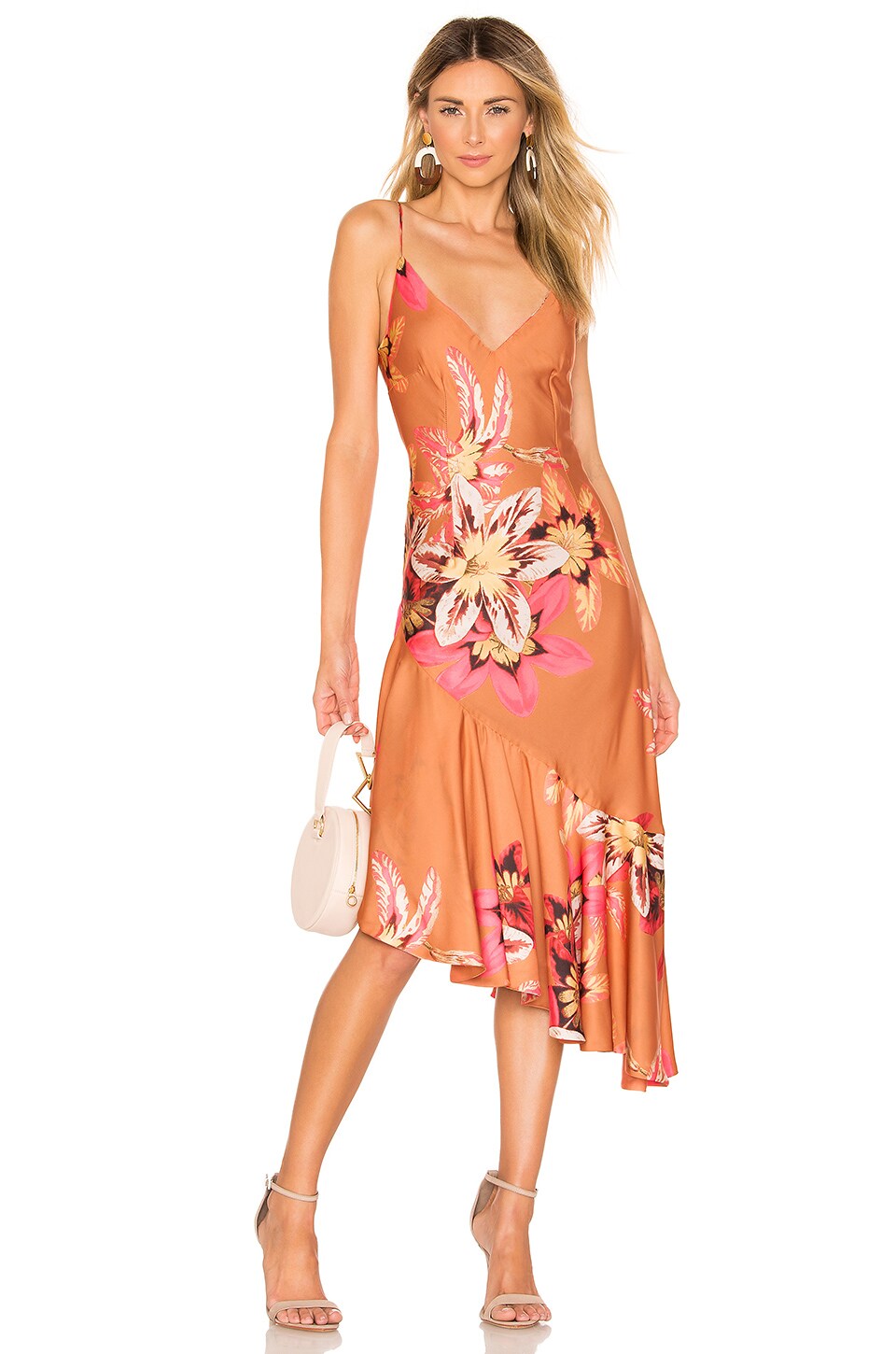 PATBO Floral Carmen Ruffle Slip Dress
Cover Photo Via Amina Muaddi
Words by Kate Sullivan